Southern African Society for
Medieval and Renaissance Studies
The 22nd Biennial Conference was held from
28 to 31 August 2014 at
Mont Fleur,
Stellenbosch,
South Africa.
The Art of Reading in the Middle Ages and Renaissance
Keynote Address: Professor Henry Woudhuysen,
Lincoln College, University of Oxford
Convener
Professor David Scott-Macnab,
Department of English,
University of Johannesburg
dscott-macnab@uj.ac.za
For the conference progamme, a reflection on the conference by the keynote speaker, Professor Woudhuysen, and photographs and other information,
click here.
Victor Houliston attended the inaugural conference
of the
Centre for Catholic Studies, held at Ushaw College, Durham, from 28 June to 1 July 2013. Entitled, 'What is Early Modern Catholicism', the conference was held to celebrate the work of Eamon Duffy and to introduce the Centre as a focus for research in this rapidly expanding field. Ushaw College was until recently a Roman Catholic seminary, with a major library of rare books, but is now part of the University of Durham. Much of the architecture was designed by Pugin, and although it is looking a little shabby, provided an appropriate setting for the deliberations. One of the highlights was a concert by Peter Leech's ensemble, Capella Fede, performing rare pieces from Jesuit composers of the sixteenth and seventeenth centuries. The conference was unusual in today's secular academe, in that the entire company gathered spontaneously at the end of each day's proceedings, to sing Salve Regina.
One of Ushaw's most impressive buildings is St. Cuthbert's chapel. It is said to have been very "handsomely done" since its architects were Hansom and Dunn. It replaced an earlier Pugin chapel on the same site and was first used in 1884.
Victor presented a paper on 'Robert Persons's Precarious Correspondence', a report on the progress of an international project for a multi-volume edition of the Correspondence and Unpublished Papers of Robert Persons, SJ (1546–1610). The first volume has now been submitted to the publishers, the Pontifical Institute of Medieval Studies, for the series 'Catholic and Recusant Texts of the Late Medieval and Early Modern Periods'.
---
Brian S. Lee's
translation of "Alice's Adventures in Wonderland" into Middle English verse,
"The Aventures of Alys in Wondyr Lond" has been published by Evertype
. The book was illustrated by
Byron W. Sewell.
Click here for page with links to Amazon.com and Amazon.co.uk.
Bookstores can
order copies at a discount from the publisher.
Beth stil and listeth! Ye shal heere a fitt
Reducëd from a book a clerk hath
writ
In aftyr Englyssh, how a yongë mayde,
Alys by name, that lessuns conned
but sayde
Noon right ne logik coude whan onë daye
Slepyng, as Langland dyde,
on medow gaye,
In sweven merueillouse hir thought she found,
Doun in a
coningere wel under ground,
No lak of wondrous crëaturës ther
Egre to speke
to hir, though mad some wer-
Yet most my joly whistle fyrst be wet
Lest
lakkyng ale none tale of me ye get!
Excepte blest God sholde give me special grace
Expect I nil this proces put
in place.
John Boje has cleverly translated into Afrikaans verse the introductory
acrostic poem:
Hoor nou 'n slag, want ek wil 'n verhaal
aan julle oordra, in 'n snaakse taal
deur 'n geleerde man geskryf, van Alisoen,
'n meisie wat - so't Langland ook gedoen -
in 'n weiland aan die slaap geraak het; daar
het sy die vreemdste avontuur ervaar,
want in 'n droom bevind sy haar terstond
in 'n konyn se gat, diep ondergrond.
Aan rare skepsels was daar g'n gebrek
wat met haar wou praat, al was party ook gek.
Ek les nou eers my dors, want sonder aal
maak ek geen vordering met my verhaal
en sonder hulp van Bo is daar min kans
om 'n geskikte storie saam te flans.
Brian has also published
"Continuation of the Cokes Tale," Interpretation and Performance: Essays for Alan Gaylord, ed. Susan Yager and Elise E. Morse-Gagné (Provo, Utah: Chaucer Studio Press, 2013), pp. 199-210. A pseudo-Chaucerian fabliau in Middle English verse, including an audio excerpt read by the author.
Ek publiseer hierdie jaar '
n artikel oor trappe
en daarin het ek na Middeleeuse
en Renaissance-trappe
verwys -- veral di
é
van my groot held, Leonardo da Vinci. Verlede jaar het ek
'n artikel oor Leonardo se argitektoniese
ontwerpe gepubliseer wat nogal gunstige internasionale terugvoering
uitgelok het.
Ek is vir vyf jaar (tot aan die einde van 2016) by Tshwane University of Technology
aangestel as professor extraordinaris in argitektuur.
Hulle het twee jaar na mekaar 'n merieteprys aan my toegeken as
die beste vrouenavorser in die Fakuteit Ingenieurswese -- wat vir my
baie snaaks is!
Ek bly besig met navorsing en is steeds die redakteur van die South African Journal of Art History (SAJAH). [
See invitation for articles on the sidebar of this website
.]
Estelle vertrek binnekort na Berlyn vir navorsing -- haar vyfde reis oorsee vanjaar.
David Scott-Macnab has published two articles this year:
• 'Medieval Folk Etymologizing and Modern Misconstruals of Old French Archegaie'
Zeitschrift für französische Sprache und Literatur, 123 (2013): 33–49.
• 'The Names of All Manner of Hounds: A Unique Inventory in a Fifteenth-Century Manuscript', Viator: Medieval and Renaissance Studies, 44:3 (2013): 339–368.
In June and July, he was Gastprofessor at the Neuphilologisches Institut, University of Würzburg, where he taught a course on medieval literature, while also pursuing his research in the university libraries and at the Zentrum für Augustinus-forschung.
The Residenz, the former palace of the Prince-Bishops of Würzburg, now houses,
in one of its wings, the Institute of Classical Philology and
its library, which David found to be an inspiring place to work.
The Julius Maximilian University of Würzburg is not as well known in the English-speaking world as some other German universities, but it has the distinction of being the sixth oldest university in the medieval German-speaking territories in Europe, being founded in 1402, after the universities of Prague, Vienna, Heidelberg, Cologne and Erfurt.
David delivered an invited public lecture at Würzburg on 'Changing Representations of the Demonic Hunter in Medieval English Literature', and has spoken publicly on medieval studies on three other occasions, at the universities of Johannesburg, Pretoria and Wits.
David is currently doing everything possible to ensure an exciting and successful SASMARS conference in August 2014.
Professor David Schalkwyk - Photo by Julie Ainsworth.
Courtesy of Folger Shakespeare Library.
Congratulations to David Schalkwyk, who
has been appointed as Academic Director of a new research collaboration dedicated to Shakespeare's world-wide impact. P
rofessor Schalkwyk will run Global Shakespeare - an innovative partnership between Queen Mary, University of London and The University of Warwick.
Global Shakespeare has been set up to shape the future research agenda in 21st century Shakespeare studies across all platforms including criticism, performance, history, and media from television to digital reproduction.
It will offer a range of programmes which will look at creative historical and contemporary approaches as to why 'Global Shakespeare' is so relevant to scholars, performers, practitioners, artists, teachers and above all, the next generation of students.
Professor Schalkwyk is a leading authority on the writings and plays of the bard and recently published
Hamlet's Dreams: The Robben Island Shakespeare
which brings together the Robben Island Prison of Nelson Mandela and the prison that is Denmark for Hamlet.
[See the entry on Safundi elsewhere on this page for news of a virtual round-table in response to Hamlet's Dreams.]
He joins the programme from Folger Shakespeare Library in Washington DC - which is home to the world's largest and finest collection of Shakespeare materials - where he was Director of Research. He was formerly editor of
Shakespeare Quarterly
and before joining Folger he was Professor of English at Cape Town University.
Speaking about his new role Professor Schalkwyk said: "The new Global Shakespeare programme offers a unique opportunity to harness the expertise in scholarship and performance at two great universities to establish a collaborative network which will engage with Shakespeareans across the globe in a set of new interdisciplinary partnerships. The challenge is to provide a programme that is both wide-ranging and intellectually rigorous, will offer new critical perspectives on the very notion of Global Shakespeare, and ensure mutually enriching conversations for all participants."
Professor Morag Shiach, Vice Principal for Humanities and Social Sciences at Queen Mary, University of London and Professor Ann Caesar, Pro Vice-Chancellor at The University of Warwick, commented jointly on the appointment:
"David Schalkwyk is a major international figure in the field of Shakespeare Studies whose research has opened up exciting and important new areas of inquiry and we are delighted that he will be joining us for this new joint project. We are confident that David, in collaboration with colleagues at both universities, will create an innovative a very successful centre for research and teaching on Global Shakespeare, and very much look forward to working with him."
Professor Schalkwyk was scheduled to take up his post in September 2013.
Source:
Queen Mary, University of London.
Chris Thurman, Associate Professor in English at the University of the Witwatersrand, South Africa and editor of Shakespeare in Southern Africa has edited
South African Essays on 'Universal' Shakespeare, scheduled for publication by Ashgate in May 2014.
South African Essays on 'Universal' Shakespeare addresses certain nuances of Shakespearean production and reception across time and space. It collects new scholarship and extant (but previously unpublished) material, reflecting the changing nature of Shakespeare studies across various 'generation gaps'. Each essay is inflected by a South African connection: in some cases, simply because of the author's nationality or birthplace or institutional affiliation; in others, there is a direct engagement with what Shakespeare means, or has meant, in South Africa. By investigating the universality of Shakespeare from both implicitly and explicitly 'southern' perspectives, the book presents new possibilities for considering (and reassessing) shifting manifestations of Shakespeare's work in major Shakespearean 'centres' such as Britain and the United States, as well as across the global North and South.
Contributors: David Schalkwyk, Chris Thurman, Natasha Distiller, Sandra Young, Pier Paolo Frassinelli, Victor Houliston, Chris Thurman, Brian Pearce, Laurence Wright. For more information, click here.
Brian Pearce has recorded the following bit of fascinating local history with a medieval twist:
(Photograph courtesy of Val Adamson. Copyright M.R.Rowlands 1967.)
In the 1950s and 1960s, a tradition of Shakespeare performance developed at Springfield College of Education in Durban. The producers responsible were Charles Shields, Rosalie Farrant and Rhoda Rowlands. When Charles Shields retired from the college in 1967, he was presented with a scroll from his colleagues. The scroll was designed and created by Rhoda Rowlands. She worked in collaboration with Jessie "Det" Glynn, who was a specialist in Middle English. She helped with the text which celebrated Shields's interest in English History and Literature. Quotations from the plays he directed appear in the margins. The scroll was originally much bigger but was later cut down in size to fit the present frame. The text is often quite amusing: Shields appears as "Charles de Bouclier", the French version of his name, while Springfield is referred to as "Leppingmede". The basic idea is of a Knight going on a pilgrimage and echoes Chaucer's Canterbury Tales. For more details about the stage productions, see my article, "The Springfield College Shakespeare Productions" in Shakespeare in Southern Africa, Vol. 25, 2013, 87-98. [See contents page elsewhere on this site.]
---
THE SACRED VALLEY OF THE INCAS IN PERU: A MEDIEVAL WORLD SUCCUMBS TO RENAISSANCE IMPERIALISM
George King
Machu Picchu as seen from Intipunku, the Sun Gate
on the Inca Trail. Machu Picchu rests on a ridge between
two valleys, each over 400 metres deep, carved by the Urubamba River.
Even if we have taken little interest in the history of pre-Columbian American civilizations, most people will be aware of the Aztecs, Incas, Mayans and perhaps one or two others of these legendary peoples active during the period roughly corresponding to Western medieval times. Not all may know, however, that the Peru region in South America is recognized as one of six global areas with an independent, indigenous development of civilization – one of two such areas in the Western Hemisphere (the other is Mesoamerica).
George

at the fort of Ollantaytambo
.
Like many others, I was unaware of this when my wife and I made a fascinating but all-too-brief trip to Peru's Sacred Valley of the Incas and Machu Picchu earlier this year. On returning to South Africa I came across Hugh Thomson's A Sacred Landscape: The Search for Ancient Peru. While Thomson is not a scholarly authority in the field of archaeology – his book is intended for the layman rather than the specialist reader – he has travelled in Peru on and off over a period of twenty-five years. He also spent a year with his family in Urubamba in the Sacred Valley of the Incas, about 50 kilometres from the city of Cuzco. He has got to know most of the archaeologists working in the region, accompanying several scientific expeditions to various parts of the country. With ten pages of bibliography and fourteen pages of notes, his book provides a reasonable bolstering of academic paraphernalia. His book stimulated my own interest in learning more about this part of the world. For the full story,
click here
.
In 2008,

Rhodes College

hosted the symposium "Shakespeare in Color," which explored African American adaptations and appropriations of Macbeth. This conference led to the collection of essays

Weyward Macbeth: Intersections of Race and Performance

.
One of the symposium participants, Hollywood actor Harry Lennix (who starred in the 1999 film adaptation, Titus), recently produced an adaptation of Shakespeare's Henry IV plays. H4 is set in contemporary Los Angeles to explore political struggles in the black community.
H4 will be screened at the

Indie Memphis Film Festival

(9pm, November 2, Playhouse on the Square)
Lennix and screenwriter Ayanna Thompson are scheduled to attend and participate in a Q&A after the screening.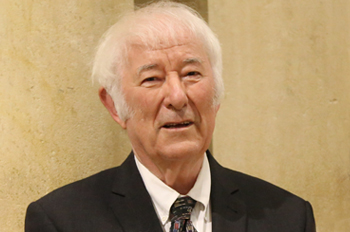 Nobel Laureate, Seamus Heaney, sadly passed away on 30 August 2013. He had a long and profound engagement with the literature of medieval England and Ireland, and read a selection of his translations at the recent opening of the International Society of Anglo-Saxonists Biennial Conference. His translation of Beowulf has brought the poem to life for students of Old English literature.
Beginning with extracts from his version of Beowulf, Heaney read a selection of his translations of Old English and Medieval Irish poetry as well as poems on medieval topics.
Seamus Heaney was awarded the Nobel Prize in Literature in 1995. To read the full report and listen to the reading,
click here
.
Viking versatility: pillagers cum pirates recast in subtle light by British Museum
Mark Brown, arts correspondent
The Guardian, Thursday 26 September 2013 16.57 BST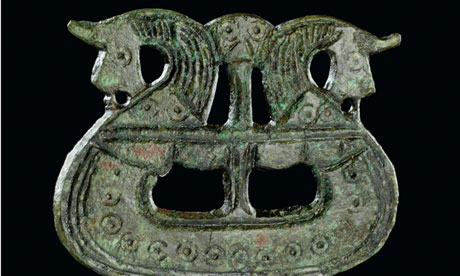 A brooch shaped like a ship, from the British Museum Viking exhibition collection. Photograph: British Museum
"There's no reason why, when you're hacking someone to death, that you can't hack them to death stylishly," suggested Gareth Williams, perfectly reasonably, as he announced details of the first big Viking show at the British Museum for 30 years.
Williams was explaining, about this fresh appraisal of the Vikings, that the exhibition will not depict them as simply brutal rapers and pillagers. Nor will it concentrate on the "fluffy bunny" wing of Viking scholarship, he said, referring to a stance that emphasises their peaceful trade and beautiful craft skills.
"We are trying to provide a balanced view. It is not either or. They are raiders and marauders and they are traders and explorers and craftsmen. Fundamentally they are travellers – and travellers with open minds."
The exhibition will be staged next spring and has been created in collaboration with national museums in Denmark and Germany. It aims to cast new light on what was an extraordinary expansion between the late 8th century and early 11th century. From their Scandinavian homelands the Vikings managed to get as far as Newfoundland, Morocco and central Asia. For the full story, click here.
Three privately held copies of Chaucer's 'The Canterbury Tales' in medieval trove loaned to Yale
By JOHN CHRISTOFFERSEN Associated Press
October 29, 2013 - 4:25 pm EDT
NEW HAVEN, Connecticut — Yale University has received what it calls the largest and most comprehensive privately owned collection of Middle English texts, including among the last three privately held copies of Chaucer's "The Canterbury Tales."
This Oct. 16, 2013 photo released by Yale University in New Haven, Conn., shows three copies of Chaucer's The Canterbury Tales, part of a privately owned collection of Middle English texts now on long-term loan at the Beinecke Rare Book & Manuscript Library at the school. (AP Photo/Yale University)
Professor Toshiyuki Takamiya gave his collection of manuscripts to the Beinecke Rare Book & Manuscript Library at Yale on long-term loan to allow researchers and students to study it.
Assembled over 40 years, the collection has 51 medieval English vernacular texts of literary, historical, scientific and cultural significance, Yale officials said.
"His decision to lend these manuscripts is an enormous boon to medieval scholarship at Yale and throughout the world," said Ray Clemens, curator of early books and manuscripts at Beinecke.
"The Canterbury Tales" is a collection of stories written by Geoffrey Chaucer at the end of the 14th century about pilgrims who tell tales on a journey to Canterbury Cathedral. They were written before the printing press was invented and early copies are in manuscript form.
The three 15th century copies have not been studied extensively and allow scholars to have a more complete picture of Chaucer's landmark work and shed light on the period and different social classes that valued the literature, Clemens said.
One manuscript includes a lavishly illuminated picture of Chaucer and is a very large book with expensive parchment, reflecting a high status owner, while another is smaller and known as a "gentleman's copy" because it contains bawdy tales, Clemens said.
"It tells us about a very different view of Chaucer and his work," Clemens said. "Each one of them is a witness onto what Chaucer may or may not have intended 'The Canterbury Tales' to be."
The works are available for public viewing and can be found in the library's electronic catalog at orbis.library.yale.edu.